Admissions
Students who need to prove their English proficiency as part of their admissions pathway towards a degree program, please refer to admissions requirements in Chapter 3.
The ESL program is also offered as a non-degree program to students in the UoPeople Arabic program, or other students who simply wish to improve their English language skills for any purpose, and not only for the sake of studying at UoPeople. Those who are unable to provide a recent English test score are required to take an online English placement test with Duolingo as part of the application process, which costs $50 USD. An additional cost may be required to cover the application processing fee that includes the test option.
As part of the ESL program, an applicant may:
choose to be placed into the minimum level
choose to determine his or her English level by registering for the Duolingo test via the online portal.
choose to determine his or her English Level by submitting an existing test from the following list below: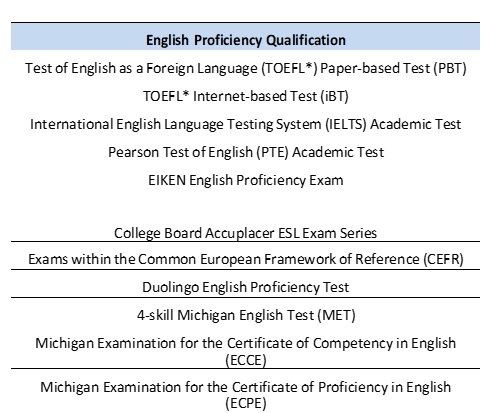 * TOEFL tests are required to be taken within the last two years. All other tests must have been completed within the last 5 years.
Every applicant is provided with all 3 choices: submitting documents, taking English level test, or beginning in the minimum level of the ESL program.
Degree -seeking students will be required to provide a recent English test score, taken within the last five years, from one of the following:
Program Structure
The ESL program contains eight courses with graduated levels of difficulty in English language proficiency. The first two levels of the program are designed for Arabic speaking students just beginning to study the English language.
Once students provide their English test score, or take the Duolingo placement test, UoPeople will determine the appropriate English proficiency level for each student . Depending on placement, students may or may not need to go through all levels of the program.
This program was designed specifically for non-English speakers to equip them with the skills necessary to study at a university level in English. This means that, upon the completion of the program, you may be able to apply to any UoPeople English program and continue your studies towards a higher degree.
Curriculum
ENGL 0001 Beginner English 1 (UoPeople Arabic students only)
ENGL 0002 Beginner English 2 (UoPeople Arabic students only)
ENGL 0003 Elementary English 1
ENGL 0004 Elementary English
ENGL 0005 Pre-Intermediate English 1
ENGL 0006 Pre-Intermediate English 2
ENGL 0007 Intermediate English 1 (EAP)
ENGL 0008 Intermediate English 2 (EAP)